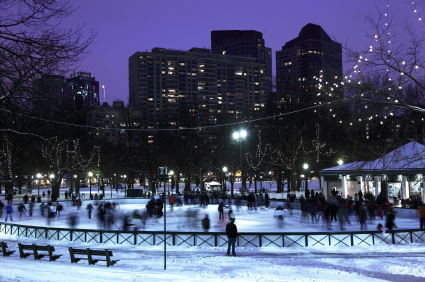 First Night Skating Spectacular
The Skating Club of Boston celebrates the New Year at The Boston Common Frog Pond with the annual Skating Spectacular! Delight in watching spins, jumps, lifts and fancy footwork from our community of talented skaters. Students from the Skating Club of Boston Skating Academy show off their new tricks; seasoned competitors and champions from the local and national scene entertain you.
Airborne Comedians Whether balanced atop seven foot unicycles or frantically flinging objects at one another, this pair of extraordinary jugglers is always ready to make a special delivery of laughs.
Festival of International Short Films
A perennial First Night favorite! A collection of recent short films from all over the world, curated by the MFA Film Department. For schedule and titles visit www.firstnight.org.
The Boston Children's Theatre Show Choir
To celebrate the spirit of the season, they will perform holiday favorites along with some exciting surprises! Led by Musical Director Daniel Blake, BCT's Show Choir features the talents of over 20 teens from more than 20 Greater Boston communities.
Ice Sculptures at Copley Square
Visit Copley Square and Boylston Plaza at The Shops at Prudential Center in the days leading up to First Night to see the ice sculpture artists at work. At nightfall on December 31, the ice sculptures will be illuminated in a brilliant spectrum of colors.
Panorama Magazine Grand Procession
The Panorama Magazine Grand Procession has been the heart of the First Night celebration since its beginning in 1976. "The Nature of Boston," First Night's 37th anniversary Grand Procession, will be led by different pieces from the Back Alley Puppet Theatre and the Puppeteers Cooperative, whose founders have participated in all 37 First Nights in Boston. The 2013 Panorama Magazine Grand Procession celebrates the Nature of Boston. From the Harbor to the Common, the subway to the street, our city is a study in contrasts, with elements from nature meeting the built environment at every intersection of our daily lives.
New England Conservatory Youth Jazz Orchestra
Led by celebrated jazz artist, Ken Schaphorst, New England's finest high school jazz musicians will light up First Night with their big band might!
LogMeIn Midnight Fireworks
The skies above Boston Harbor will be transformed into a brilliant tapestry of color, light, and sound when the clocks strike twelve. A complete sensory experience unlike anything else, this spectacular display is especially created for First Night Boston by Zambelli Fireworks.
&nbsp