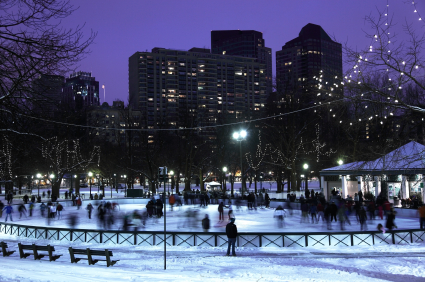 November is an exciting month for us here at enVision Hotel Boston! The end of the month will mark our fourth month since we opened in July, and we are now feeling very much settled in our new neighborhood, Jamaica Plain! We have loved meeting so many wonderful guests in the past four months, and some have already made enVision their go-to hotel in Boston!
Still Plenty of Time to Experience Fall
November in Boston means it's definitely starting to get your jackets and gloves out, but it's not too late to catch that beautiful New England foliage. There is still plenty of fall beauty out in the Public Gardens and the Charles River Esplanade. Or, head north to Cambridge to see the 630 different types of trees at the Mount Auburn Cemetery, America's first garden cemetery. Mount Auburn is the perfect secluded spot to stroll through 175 acres of wooded hills before the foliage season is over!
Frog Pond Opening November 21st
Come visit Boston in November to be the first on the ice on the Boston Common's Frog Pond! The Frog Pond opens for ice skating on November 21st, and offers free public skating every day of the week, even late night skating on the weekends! The Frog Pond skating rink is right in the heart of the Boston Commons, an easy place to stop as you visit downtown Boston. Stop by and take the kids, and don't worry, you can rent skates right at the rink!
In the mood for sports?
Catch a Boston Celtics game at TD Garden in November, right at the beginning of the season! Or, relax in one of enVision's guest rooms, tune into ESPN, and watch the game from your luxurious bed on your flat screen HDTV!
Brave Black Friday Madness in Boston
If you're in Boston around Thanksgiving, you can brave the Black Friday madness for Boston's shopping deals at Copley Place and Newbury Street, or head down to the Wrentham Village Premium outlets for your Black Friday bargains, less than an hour from Boston.
Boston Common Tree Lighting Ceremony November 29th
Even if you aren't singing Christmas carols quite yet, Boston is already getting ready for the holiday season, and the Boston Common Tree Lighting ceremony is at the end of the month, on November 29th. It will be the 71st annual official tree lighting, and it is quite a sight to see! The 45 foot tree will glow with 54,000 lights at 8pm!
November enVision Lobby Events
If you'd rather stay in, we have events happening right here in the enVision hotel lobby
this month! Every Friday night we are hosting "Fresh Note Friday", with live music performed by local musicians, as well as hot spiced cider and hors d'oeuvres available for guests to enjoy. We are also very excited about our Taste of J.P nights, where you can sample food from local Jamaica Plain restaurants!
Here at enVision, we love this time of year, and this Thanksgiving season, we are thankful for each and every guest we have had the pleasure of meeting, and every guest we haven't met yet! We are appreciative of this new opportunity not only for us, but to help a community develop, and to provide a warm, welcoming place for you to stay, no matter how far from home you are.
&nbsp