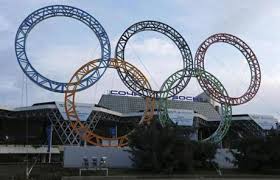 Boston is famous for its' baked beans and rich history (I don't think I need to mention RED SOX!). If you are strolling around Boston Public Garden and Commonwealth Avenue Mall it is impossible to miss the different statues and memorials that decorate the city. Some of the statues you will find in Boston include the famous George Washington, Paul Revere and Samuel Adams statues along with many more!
As in all past Olympic events, the US Olympians are making us proud yet again! Many Olympians competing in the 2012 Olympic events are from Massachusetts. I am sure you have heard of Aly Raisman (who just won a medal), Shelley Olds and John Isner just to name a few. Can you name a few Olympians who have competed in past Olympics that are from Massachusetts? Have you heard of James Brendan Connolly or Harold Connolly?
If you are in Boston this Olympic season, why don't you go visit James Brendan Connolly and Harold Connolly? The statue of James Brendan Connolly is located in South Boston and the statue of Harold Connolly is located in Brighton, Massachusetts (in front of Taft Middle School).
&nbsp